I've seen
Trace Bundy
before. He puts on a good show, but I almost didn't go this time. Some people like to relax on their weekends. My weekend consisted of going to see presentations at Messiah, going to VT to snowboard (yes, in 70° weather), a cookout, and a few miscellaneous extra pit stops; about 1000 miles on the road, plus several hours more in the car to camp out and sleep. However, Kelly convinced me to go to the show, got the tickets, and made dinner reservations.
Now the first time I had seen Trace Bundy, in Vienna, VA, he had young prodigy, Sungha Jung. The kid could play, but was so emotionless and mechanical. Sure, he was a kid (12 or 13 at the time?), but it was just such a stark contrast to Trace's playing and persona.
Last year at WCL,
I saw Trace again
, but this time as a solo act. That gave him a little bit more time to play and to tell stories. He can hold your attention well enough to be a solo act, so that worked.
This time, Trace brought youtube sensation, Sandra Bae. She's this 18 year old fingerstyle guitarist whose youtube videos garnish views numbering in the hundreds of thousands. Conveniently, she's from Philly (Korea, but is with a host family near Philly).
As it may be apparent, my life is fairly busy. I don't get time to check up on youtube or anything like that; the latest internet sensations to reach me. So I went into this without seeing any of Sandra's videos. Admittedly, I went in with low expectations. I expected something mechanized and dry; note-for-note perfect with no life.
But that's not Sandra. She's transparent; you know what she is thinking because she'll say it. If she's nervous or thinks she's going to mess up, she'll tell you, make an awkward joke about it, and then …just rip. There's something that being on stage causes sometimes, where your mind is all over the place and the only thing you know is playing guitar; your mind is racing and if you do anything that isn't playing guitar, you flounder. I'm sure it could come off as unprofessional, but if you've got the chops to back it and the wit to play it off, you can use the candor to your advantage.
And there was something about her playing that felt right. Like her stage presence, you could sense the excitement and nervousness, but it just seemed like she belonged there. As a player, she has an impeccable sense of melody, intertwining the melodies with bassy rhythms and leads that draw you in. She only played covers (of which I'm not a huge fan), but her original arrangements blended the familiarity with her personality in such a way that set her apart from being just another face doing a cover at an open mic. She drew from a number of inspirations, ranging from Michael Jackson, "who was black," to Queen, to Tommy Emmanuel, to Andy McKee. I was personally rather impressed with her cover of Apologize, as she took a cover from a genre I'm not fond of, and made it interesting and original, without having to sing. So often the basis of a cover is limited to dumbing down the music and singing it differently, based on the limitations of the individual's voice. Instead, Sandra took the mundane and gave it flare and technicality and …well, check it out:
Listening to her arrangements, at age 18, made me take a serious look at some of my music. She's got a bright future ahead of her. She has talent, personality, and a massive following. Right now she's just arranging covers. If she can get into composing original pieces, she'll be golden. Yes, there is a niche in playing artsy covers on youtube, but music is bigger than that and it sounds like her aspirations are as well. I mean, she's only played a handful of shows and she's playing with Trace Bundy …that's a good start.
And, like I mentioned previously, she's living with a host family outside of Philly. So, if you're in the area, keep an eye out for her dates over the summer!
Back to the show; the stage then opened for Trace Bundy.
Now something about Trace - First and foremost, he is a musician. You can't deny that; he's musically talented beyond what any individual could reasonably hope for. And I say musician, because his approach appears appears to be well rooted in theory; he knows what he's playing; he's not just a guitarist. Beyond that, however, he's a performer.
You've gotta have personality. For solo acts, if you want people to like your live show, you need them to like not only your music, but who you are as a person. Because we're in the day and age where you can get music anywhere, you have to sell more than just notes.
Trace has stories, jokes, and crowd engagement. Even if he were an average guitarist, I think he'd make out pretty well just on personality. I try, in my own performances, but I'm well aware that I don't quite have the same charm. When I see Trace Bundy, I take notes.
So since Sandra opened for him, his set was a bit shorter than last years. Unfortunate on one hand, but on the other, it's neat to see the up-and-comings.
His set started out with Elephant King, the title track to his latest album.
Next, was Overtime; a delay-based tune centered around playing 1.5x (pay for working overtime) the speed of the delay. It's a great way for him to introduce the idea of delay to an audience and a great tutorial on how to use delays more dynamically. I had seen him perform both Elephant King and Overtime before, but I'm fairly certain this was the first time I got to see him play Bristlecone. To play this song, he plays a little riff prior to the song and then plays it in reverse to start the song. Again, it's a nice little demo of how he is actually processing the sound and an interesting look into another artist who uses such effects.
The Oldies medley seems to come out at every show. I think there may have been a few new references, but this one is kinda getting gimmicky. Maybe that's just my disdain for covers?
Pachelbel's Canon is a classic arrangement for Trace. He was the first I saw to actually do something innovative with a more classically arranged piece. This was part of the inspiration that Kelly and I had for having Trevor Gordon Hall play this at our wedding. Trace brought Sandra back to the stage to accompany him in this one. When I had seen him with Sungha, they basically played the same thing, but, for this, Sandra had written an accompanying part that really went well with Trace's version.
Next was Traverse, a song about a rock climbing accident, that resonated well with Kelly, as she was still in her boot from her accident.
Trace got more of the entertainer out with Happy Birthday, played backwards, followed by Beat It on his Iphone. Both arguably gimmicky, but still entertaining nonetheless, especially when seeing peoples confused faces during Happy Birthday. And, actually, I hadn't seen Beat It on the Iphone before; previously he had played superstition. Personally, I think Superstition worked out better, but it was good to see things switched up.
The night wrapped up with Joy and Sorrow, Dueling Ninjas, and Hot Capo Stew; three crowd favorites. Aside from the frenzied capo use on Hot Capo Stew, I think Joy and Sorrow is one of my favorites. It uses two guitars in different tunings, weaving between major and minor keys.
For an encore, Trace came back out to play a U2 cover, Where the Streets Have No Name.
Also, at some point throughout the show, he recounted the story of the crème brulee from last year. Consequently, I now know how to make crème brulee.
In all, yes, I would go see this exact show again. Trace is engaging and a great performer. However, I desperately want to hear more of his songs that I haven't seen him perform. It seems like he's stuck playing "Trace Bundy's Greatest Hits." The hits are hits because they are justifiably the most interesting, exciting, and innovative, but I want to see the whole story. And I want to hear the whole story; I want to hear the stories to all of songs I haven't seen him play...
Again, I've been challenged. Two weeks, back-to-back, I have seen phenomenal guitarists who challenge what I write, how I write, and how I perform. Ultimately, as a guitarist and performer, that is what I want to see; my songs and performances challenging and inspiring others.
I've been working on this one for a while now; bits and pieces pasted together with dilligent review to prevent anything too incoherent from passing through. This album has taken a lot of digestion and thought. Because it is that good. Enjoy:
What's the average length of an album these days? Somewhere between 30-40 minutes? Let's face it, very few people have an attention span beyond that. That's why the album is dying; it's more advantageous to just release singles. People can handle 3-4 minutes at a time. The simple-minded can understand that.
So it's Tuesday (or at least was when I started writing this review). At work, that means country music day, which I vehemently abhor. There are few days worse than a Tuesday. Everything else could be right with the world, but country music just tends to negate all of the beauty in life. So instead of sitting at my desk, subjecting myself to such masochistic torture, I make my Tuesday's death-metal-Tuesday. Ironically, I find death-metal to be relaxing.
On this particular Tuesday, I'm looking for 72.5 minutes of uninterruption. I have plenty of work to fill the time, so I shouldn't have a reason to get up from my desk. However, as the morning progresses, it becomes more and more apparent that I won't have my time of solace. Meeting upon design change upon frivolous task pile up and suck me away from my desk. Generally these would be welcome, but I want/need this time in succession.
Throughout the day I resent this. Because you can, in fact, hold my attention for a full album. Listening track by track is not how it should be done. I'm an album guy; tell me a story; paint me a picture. A 3 minute song is a snippet of useless information. Either the album will receive praise or condemnation. I won't revisit an album just for one song. There is no lukewarm, no hit-single, nothing but black and white. And if you can hold my attention through an album, chances are, I will follow that up with the rest of your discography.
So I have tried to reserve this 72.5 minutes to listen to the latest Between the Buried and Me (BTBAM), The Parallax II: Future Sequence. A band that doesn't believe in hits or 3 minute songs … or 40 minute albums (yes, they have these, but they do not ascribe to the limitations that this narrow-mindedness proposes).This is the sequel to their 2011 EP, The Parallax: Hypersleep Dialogues. Round 1 was a taste; their 3-song, half hour long journey to bring you up to Future Sequence.
And it's an album that needs a half hour EP intro; it deserves it.
This is an album that reads like a novel. Plain and simple. I remember when I was in elementary school, I would stay up on the weekends reading while in bed. Sometimes I would read 2 books in a night, staying up until 2 or 3 in the morning. I was just that enthralled with what I was reading that I could not put it down. And that is this album. You want it start to finish, in one sitting. No one likes putting down a good book.
When you're reading a book, you read it in order. No one would read chapter 8 before chapter 3. The flow only works in a chronological sequence. You have these big themactic events, all linked together with plot that carries the themes and ideas of the characters in some comprehensive, page-by-page diction. A chapter may stand on it's own, but is much better supported with the rest of the book. Likewise, BTBAM has 5 major events (long songs) that are all linked together with 1-3 minute builds and embellishments; essentially one 72 minute long song. And with swings from one climactic/themeactic event to another, you're constantly at the edge of your seat. You don't know what's up next and it's invigorating. That is what brings you back!
What Future Sequence does is bring together every element you love from BTBAM and intertwines them into something more comprehensive than even Colors. It's softer than previous albums, with more light notes, less distortion, and more singing; it's heavier in places, with more gutteral vocals; and it's more experimental throughout. This is a comprehensive book of what BTBAM has been striving towards, arguably since their conception. This is the perfect marriage of Dream Theater meets iwrestledabearonce meets MR. BUNGLE. It is a balanced indulgence.
All that said, I think a lot of people won't get this. Anything prog is grossly misunderstood; prog-metal all the more. This will be too soft for many, especially fans of early BTBAM. It will be too heavy for many prog fans akin to Dream Theater (though this would be a great entry level into heavier death metal). This will be too experimental for fans of stuff like In Flames. It's not straight forward; it's prog. And that, in and of itself, will alienate people. Who cares? Musical thought thrives in progression.
The only bad thing about this is that it has ruined so much music for me. I think iwabo said it best with their slogan: "Metal just got gay." I never understood the shirts when I first saw them. "Gay" has such a stigma behind it in pop-culture these days. What iwabo is saying is that there is a new era of metal upon us. It's more brutal, more experimental, and more musical to the point that all other metal willl lose it's appeal. And it has. Every once in a while I'll throwback to some Haste the Day or Nodes of Ranvier, but 90% of my metal listening is stuff like BTBAM and iwabo. Have you heard the latests
August Burns Red
? Granted, it's a Christmas album, but it is absolutely laughable; nothing worth holding your attention.
This is the future of metal. This is the future of prog. This is the future of intellectual music. I could go on, hailing the album with analogous accolades, trying to convey what I want, but you really just need to listen to the album. Sit down, and really listen to it. Give it 72 minutes. Heck, listen to it twice. Anything that can pull off a flute solo in a 10 minute metal song is worth it, if for nothing more than sheer curiousity.
Over the past several weeks, I've been trying to think of my favorite song of the album. Because, ultimately, most people are going to read a review, but only give a single song or two a listen. I won't direct you to any one song in the same way that you wouldn't recommend a single chapter of a book to someone. I will, instead, insist that I recommend this as a book, cover-to-cover, all 72.5 minutes of sheer brilliance.
However, I will leave you with a video of some high school kids who did a cover of one of the tracks. Because, seriously, this arrangement is metal.
I've written about Kaki King
before
. But let's back up with the years-long quest that was finally satiated last night, seeing Kaki King live at
World Cafe Live
in Philly:
It was the fall of 2007. I was at Messiah College, playing a coffee house. If I recall correctly, it was a song later entitled, Unwinding. After I played and was heading back to sit with my friends, this guy, John, stops me, congratulates me, and tells me of this other, similar guitarist,
Kaki King
, who had played at school the previous fall.
Usually I don't listen to people's recommendations. Part of it is that there are so many that I usually forget names; the other part is that I really don't trust other people's taste in music. Tonight was different, though. Whether it was later that night, the next day, or the next week; eventually I looked up Kaki King. And this is what I saw; ultimately the inspiration for
Bea and the Rock Elephant
:
Similarly to my discovery of
Trace Bundy
, I was completely blown away and had no idea that all of that was possible on a guitar. Everyone else is just so blindly drawn to big power chords and the same set of 3 or 4 progressions.
Jump ahead a few years and I've missed seeing her every time I've had the chance. Seriously, I've had the chance to see her FOR FREE and things just never work out. I've been chomping at the bit for years!
But I finally got a chance last night. And it was one of the best shows I've seen. Ever.
To start, this was her 10th anniversary show (or tour?). 10 years ago, she released, Everybody Loves You, to make money while playing in the subway. It caught, and the rest is history. But for this show, since it was the 10th anniversary, she played the album, start to finish.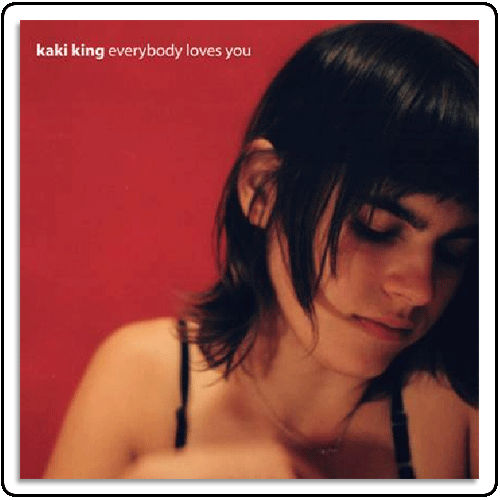 And at first I was super excited when she mentioned that she was doing this; her first album is one of my favorites. After the first few songs, though, I was confused. Turns out I didn't have her first album. Later in the show, I would discover that I didn't have the second album either! Some fan I am? Actually, though, I'm excited because that means more new music of hers without having to wait for another "new" album ;)
But that left me coming to the table with no idea of how the songs should sound. Knowing her latest 4 albums, hearing the start gave insight into the makings of a musical genius. She told stories of her early struggles as a musician, rejection, playing drums for a band in college, and how this one little imperfect demo to sell in the subway blossomed into a career of 10 years and counting.
And Kaki really surprised me. Not that I didn't expect her to rip; I just didn't expect the personality. I had heard before that she was quieter and bitter/angsty. Maybe the report had come from a bad show? Everyone has them. But for this she was transparent. She was imperfect and made a few mistakes; she was quirky and stumbled over her words a few times. But she was genuine and she was having fun. When a world class musician can have a less than classically-inerrant performance, yet laugh, joke, and smile, it sets them apart from the mechanized and interjects soul and emotion. Kaki King had that.
And maybe it was because her family and friends were there? Some sisterhood banter to lighten the mood? Comfort from her wife? I don't know; I just know that it was just a good time; it felt like the intimacy of a house concert.
And I was somewhat afraid that after she played through the album that would be it. Instead, she finished up the album and started in on more. She ended up playing an hour and a half long set of just acoustic guitar. It was great.
Except there was more! Yes, a second set; 3 hours total. The second set was King with drummer, Jordan Perlson, and Dan Brantigan on the EVI (electronic valved instrument) and trumpet. For this, Kaki rose to her feet and dawned several other guitars (I think I counted 7 total for the evening) and a tenor(?) uke. Rather than sit, she stood in order to rock out a bit harder to some more of her newer material, mixed in with some of my old favorites off of
...Until We Felt Red
. The second set also saw King's voice transition from stories to singing. It played much more like a technically dazzling indie rock show.
Essentially, King had opened for herself and her band. Half dreamy acoustic music and half indie rock show, the sets were intertwined with the frenzied plucks, pats, and taps that set King's music into oceans of texture. Were there some slips here and there? Yes. Were there technical difficulties with the EVI? Yes. It's not about hitting every note and having everything be technically flawless; mechanized music is lifeless. Music is about life; it's about the breath of the instruments, how the artists interact with them, and how meaning can be drawn from feeling.
Kaki King nailed it. All I can think is how much it sucks that I missed her for YEARS and, prior to that, had missed this genre. I will now be locked in my guitar room for the foreseeable future (except for going to work and, perhaps, the bathroom).
And I'll leave you with this: another of my favorites, as well as King's encore -
I tried.
As many of you know, I don't like Christmas music. Last year, I was blown away by
Trevor Gordon Hall's Christmas album
. I listened to it for probably about 2 months straight and still occasionally listen to it, nowhere close to Christmas time. It's better than
that
good. This year, I figured I'd give another Christmas album a try. So I pre-ordered August Burns Red's, Sleddin' Hill.
I'm a long time ABR fan. My first show was their first show with Josh McManness, where Jon Hershey came out for one final song with the band. Since then, I've seen them at a number of different venues, probably numbering about 15 total shows. I'm even in their live DVD, Home.
So I wanted to like this. Leveler, out in 2011, was a pretty solid album. It showed progression. Still hard to stand up next to Thrill Seeker, but progression nonetheless. And that's what I wanted - something fresh and interesting.
And I got Christmas music.
I listened to this for weeks; it sat in my cars CD player as I searched for something redemptive. At the end of every ride, however, I was left incredibly disappointed.
I think a few things played into this:
JB Brubaker has cited the album as showing a lot more punk influence than the typical ABR. Honestly, though, there is no discernible punk influence in any other ABR, so it doesn't tie well into the rest of their catalog. If they truely do enjoy punk, I get it, but I'm not a huge punk fan, so this did not sit well with me.
If you're going to do a punk album, make it punk. That means raw, unadulturated music. It doesn't have to sound like it has been recorded from a dilapidated garage on cheap guitars and cheap distortion pedals; mainly, it just needs to sound like you're seeing it live. This album, however, sounds sterile and over-produced. And compressed. Oh, how I loathe over-compression.
It's uncreative. The few originals they had are pretty solid tracks. They're inventive. The rest of the album is Christmas music. In order to succeed with a cover so vastly overdone, you have to reinvent the song; it can't just sound like frosty the snowman on speed.
The only vocals are on Rudolph the Red-Nosed Reindeer. It's in a punk-esque way, but just doesn't make me think ABR. They would have done better without. Either that, or I really wanted to hear some screaming through the whole album... That would be ABR.
Like I said, I'm unimpressed.
I wrote 90% of this review before Christmas. I didn't publish it until now, because I didn't want people to subject themselves to this prior to Christmas. I won't even link to it.
Now that Christmas is over, forget that ABR even did a Christmas album. Take a trip back in time and listen to
Thrill Seeker
.
It's been a long time... Consequently, bits and pieces of reviews have been queued up, waiting completion. This one is from this past August:
There are few reasons that I feel can justify going into a city. Cities are full of people and dirt. Ground dirt, the kind you plant things in, is alright, but puddles of stagnant city water and subway slime are unsightly and disgusting. And I'm not into that.
But like I said, there are a few things that can justify the trek. There are upscale restaurants, some nice music venues, and I have some friends that I will bear the masses for. But a unique opportunity presented itself to me a few weeks ago; one that, indeed, justifies going into a city.
So I got an email from Chase, my credit card company. Most of these emails are just shy of spam and promptly deleted – special discounts and savings that I'm not interested in. But then I got an email for savings on
Cirque du Soleil
tickets. For their last year in New York City with their current show. Afterwards, I'm assuming they'll just be back in Vegas, which is inconveniently far away. New York I can drive to.
And so I looked at tickets, just for kicks. And it hit me: Kelly's birthday. She's always said that she wanted to see them and I had seen them as a kid, but wanted to see them again. So I found literally the only weekend it could possibly work, this past weekend. And the only way that it way that it worked was that we were in upstate New York for a wedding on Saturday night and left first thing Sunday morning; a lot of traveling, but worth it.
Naturally, Kelly figured something was up when I suggested we go to NYC, but she
didn't
know what. There was much protest, but eventually she gave up and we were on our way into the city. It took some time, but we found a place to park (accidentally the $45 valet parking garage) and were out into the city. As we walked up to the prestigious Radio City Music Hall, I handed her the tickets. There
wasn't
much time to eat so we grabbed a sandwich at a café and headed back to find our seats.
Our seats, which were awesome, because, as
I've
stated before, a show (in this case, not a concert)
isn't
worth seeing from a distance. As you approach the nosebleed section, the point for going is quickly outweighed by sitting at home, watching on your big-screen TV. So since I hold such a philosophy and it was a special occasion, I figured the center of the second row would be pretty good.
If you are unfamiliar with Cirque du Soleil, they are basically a circus acrobatic act. Except take whatever you just thought you perceived and make the stunts harder, add choreography, a plot, and music. This particular show was Zarkana.
Which is a rock opera? Something about the word "opera" is an immediate turn off. And actually, I didn't know that this show was anything opera related until we got there; Kelly looked up the show description on her phone. Not that it would have turned me off from Cirque du Soleil, but it's just something I'm not into.
And neither is foreign language. I'm the guy who complains about the cereal box having Spanish on it. We're in the US; speak English. But that's a separate discussion. The point being, that this show wasn't in English. There were English words thrown in here and there, and some French, but most of it was in what Kelly thought may have been Italian (I'm still thinking French, but it was hard to make out any words ...opera, remeber). So an opera in Italian? What a great way to waste a life experience.
Except this is Cirque du Soleil. The plot is there, but it's such a small part of the performance that not understanding the language or the plot in its entirety is okay. And, this is a rock opera, not just an opera. So the music was something I could relate to.
And that's the goal, right? To relate to people. It makes you real and accessible. It made Italian (French?) opera singing and trapeze acts relatable; it was like you were flying through the air with them. But it was relational beyond what I thought it even could be. There were progressive notes of Dream Theater, some quirky Zappa-esque movements, and some world music thrown in. Not only does a lot of world music relate back to my experiences in Burkina Faso, but this particular instance showcased a Kora, the mysterious 21-stringged, gourd-bodied harp instrument that I had brought back with me. And not only that, but the Kora was played in a traditional-western hybrid style that made it relational to the western music which it was accompanying.
So this was a concert and theatrical production in support of the overlying acrobatic themes. It made the music stylings come to life in vivid colors and movements. It is truly amazing what these people do. They will take something traditional like a tightrope, but mix in leaps, flips, and even jump-rope. These are believable stunts taken beyond what you know, to what you know to be impossible. And it's all done choreographed to music; relatable music that makes you believe that maybe you could do something like them. But it is a showcase of the impossible?
You need to see it. I will be back for sure, presumably in the front row next time.
After the show, we walked around the city for a little bit. We stopped in at Magnolia's Bakery, where they had a signature Zarkana cupcake. It was good, but who the heck puts glitter on a cupcake?